The plenary session was opened by state secretary responsible for bilateral affairs Gergely Pröhle from the Ministry for Foreign Affairs and deputy state secretary responsible for tourism Viktória Horváth form the Ministry for National Economy. Both of them stressed the fact that countries of Central Europe are predestined for a co-operative development course by social, historical, economic and cultural reasons.
Participants agreed that it is important to recognize the real economic importance of tourism. Based on this, they considered it to be an important common task to strengthen this aspect among decision makers and the general public. Co-operation can be enforced through EU programmes for transnational co-operation and CEI funding of a smaller scale.
Several projects and initiatives were presented, the Iron Curtain Trail project financed by the South East Europe programme among them.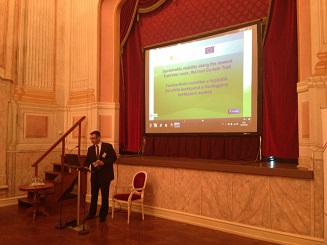 Thematic workshops were held in 3 topics, the ICT project participated in the section "Tourism and sustainability". In this workshop information were shared on running or planned projects in the topics of sustainable transport and tourism like Datourway (http://www.datourway.eu/), Transdanube (http://transdanube.eu/), Seemore (http://www.seemore-project.eu/), and Czech projects related to ICT in the northern part of the trail (http://www.batacanal.cz/). Participants agreed on the importance of sustainable transport solutions in tourism projects.